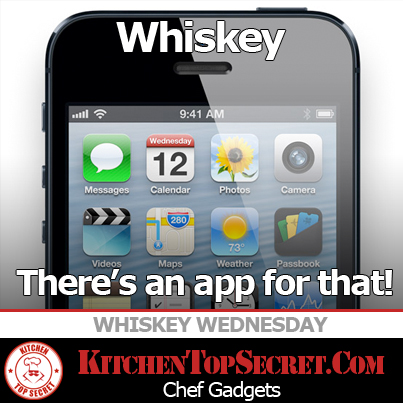 Are you a Whiskey fan?
Ever wonder if there is 'an app for that'?  Well, there is!  In fact there are several.  
In today's world of technology with tablets and smartphones always at our fingertips, of course there are apps for a phenomenal beverage like Whiskey!  In this post we will talk briefly about several apps that you might be interested in.  Some cost a few bucks to get while others are free to download.  Take a look and see if there is one for you!
Whiskey Apps
WhiskyCast
This little app had tasting notes for hundreds of whiskies and it even has scores for each whisky based on  different rating criteria.  The company went through a little revamping of their site and apps, and as a result there have been some glitches in the apps.  As of this posting we are not sure if/when the glitches will be resolved.
Whiskybase
This app will cost you about $5 to download from iTunes.  (I believe they also have it available for android).  It is a database with thousands of whiskeys and distilleries complete with ratings, tasting notes and strength.  There have also been reports of glitches with this app.
Whisky Bible Pro
The whisky app features information from the world's leading whisky writer, Jim Murray.  It has info on nearly 5000 whiskeys that he has tasted and rated.  The app provides the score, tasting notes, and strength.  You can even "add" to your collection or wish list so you dont loose track of your favorites.  But this one  comes with a ding to your wallet at around $18.
Distiller
This free app is pretty popular right now.  It will give you recommendations for whiskey depending on the place/event you select.  The have the ever important tasting notes, scores, and other info like cost range. They seem to have a pretty extensive library.
Next Whiskey Bar
these guys did a different spin on the whiskey app.  The app will do a search in reference to your location and then let you know where the closest whiskey bar is.  There are even reviews of the place.  It is sort of the Yelp of whiskey apps I guess!
Look for Whiskey
So you see, there are several apps, and this is not even close to scratching the surface.  But there are a couple things to consider when looking for an app.  First and foremost… make sure it does what you want it to do.  Are you looking for whiskey near by or do you want to keep a log of the different ones you have tasted, or perhaps you want to see the score and tasting notes.    Pick an app that meets your needs.
Second, make sure to read the reviews… especially if you are paying for the app.  Do a little search online for the app you want.  See what people are saying about it.  The last thing you want is to go into a store for a great bottle of whiskey and have your app fail you.  Or even worse, spend time logging in all of your favorites only to have them get lost in cyberspace!
So go take a look as some interesting whiskey apps.  Drink responsibly.  And remember to use your Kitchen Top Secret Ice Balls!