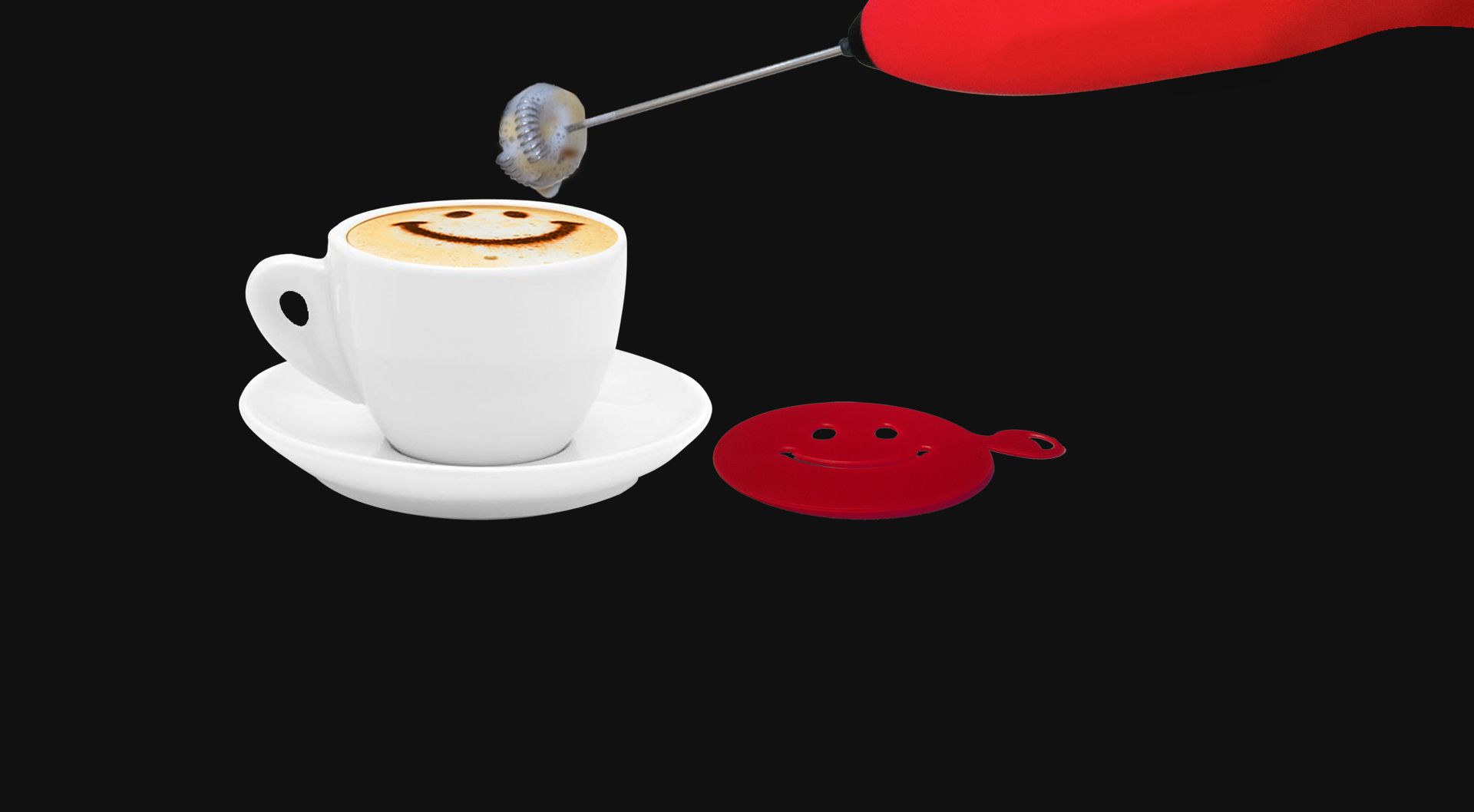 Electric Milk Frother Wand & Barista Stencil Kit
Are you in search for perfect frothy milk for cappuccino, caffe latte, milkshakes and hot chocolates?
Create creamy frothed milk in just a few seconds. It is really easy to clean because of the double stainless steel foaming head. And because it has two coils, it makes better foam, even faster than a single head foamer.
Impress your friends with wonderful professional looking drinks!
Use the four creative barista stencils for professional gourmet looking results at home. Use powdered chocolate, cinnamon, nutmeg, or any of your other favorite spices to make art on your foamy drinks.
It is so quiet! So you can still have your fabulous morning coffee without waking up the entire household. The electric, handheld mixing wand has a simple to use one-touch on/off button and runs on two AA batteries.
You can hide the coffee mixer out-of-sight in a drawer, it is small enough to easily fit, but why hide such a cool kitchen gadget? The mixing wand is free-standing, just store it right next to your coffee machine!
Click Here Now for Your Milk Frother & Barista Stencil Set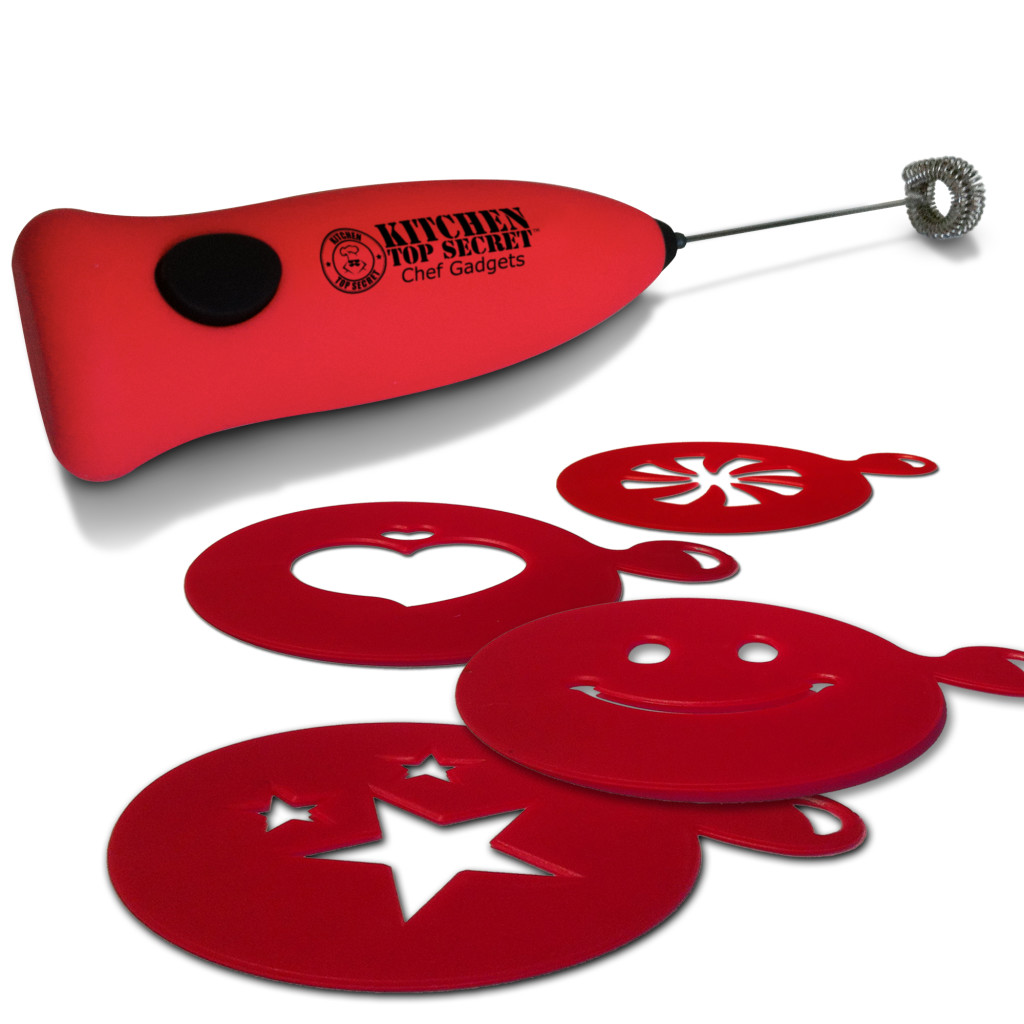 I am a coffee fanatic. Once you go to proper coffee, you can't go back. You cannot go back.
~Hugh Laurie
Kitchen Top Secret milk frother

features

 some of the best qualities, for your benefit.
Very Quiet
Use it without waking up the entire household.
Easy Storage
Store in a kitchen drawer or simply stand it upright next to the coffee maker.
Battery Operated
Use 2 AA batteries for free mobility around the kitchen. (Batteries not included)
Great Gift
Christmas, birthday, anniversary, or just because; coffee drink gadgets are always a great gift.
Fast Foam
The double coil end helps to make a creamy froth faster than a single coil.
Like a Pro
Foam up your milk and use the barista stencils and a favorite spice to decorate your drinks.
Easy to Clean
The milk frother coils and wand are stainless steel, making them easy to clean.
Free Shipping*
Save some money with free shipping! *Applies to Amazon Prime members only.
Family Fun
Kids love the stencil designs on hot cocoa drinks covered in a sweet foam.
Frothing has never been easier with the help of this stylish and powerful battery operated handheld coffee frother!
Impress your friends the next time they are over for coffee!
How to make perfect frothed milk:
Pour hot, but not boiling, milk into a tall mug. Fill it 1/3 of the way. (For colder drinks,, use very cold milk.)
Dip the mixing wand head into the milk and down to the bottom of the mug.
Turn on the mixing wand by touching the button on the handle. Mix the milk for about 20 seconds, by slowly stirring the wand head from the bottom towards the top of the mug. Turn off the milk frother by touching the button again and then remove it from the milk.
You should now have a nice fluffy foam! Slowly dollop it onto the top of your beverage.
For added interest, sprinkle some chocolate powder or ground cinnamon over one of the bonus stencil plates. Simply hold the stencil just above the top of the foam on your drink and sprinkle the spices over it.
Rinse off your wand and stencil so it is ready for the next cup.
The KTS milk frother is Easy to clean ,just dip the spiral and the wand shaft in hot soapy water and run it for a few seconds. Rinse with clean water.
The milk frother should not be cleaned in the dishwasher. Never immerse the body of the milk frother in water.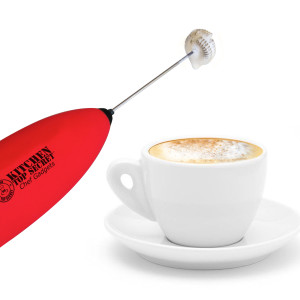 Go get your Kitchen Top Secret chef gadgets now!